.
.
.
M i l o s h  L u c z y n s k i



mixes performance with multimedia installations, video, graphics, photography with music and literature. He cooperates with electronic musicians, new music composers, poets , writers, visual and multimedia artists. Since 1995 he participated in many festivals, performed and exhibited his works all over the world.
;

M i l o s h   L u c z y n s k i
mélange la performance avec les installations multimédias, la vidéo, la visualisation graphique, la photographie avec la musique et la littérature. Il coopère avec les musiciens électroniques, les nouveaux compositeurs de musique, les poètes, les auteurs, les artistes visuels et multimédias. Depuis 1995, il a participé à beaucoup de festivals et expose tout dans le monde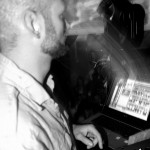 Born 1973 in Carpats – Poland. Visual and intermedia artist, VJ, video director, performer, designer, painter… – Milosh Luczynski lives and works in Paris since 2001. After culture anthropology study at the Jagiellonian University (1992-94) and industrial design at the Art Academy in Krakow (1994-98). Later he studied communication and multimedia at the School of Art in Toulouse (1998-99). Passionate about music and performing arts, Milosh invented new original and personal forms in electronic culture. Starting as VJ at the first electro-events in Krakow in 1996, he quickly appeared the the electronic scene in Germany and joined the Novalog project – the voice of young artists captured on electro in both Berlin and Krakow. While vjing in clubs , he also produced art installations and videos. In Toulouse he was an active member of mix-media collective « Inkorporation », which had a strong influence on the electronic scene in Southern France. He developed there his own unique style – a fusion of image, sound and text. His project « MPV3″ (music:Poetry:video) was successfully presented at the Frankfurt Literature Exhibition in 1999. In 2000, he started working with the label F Communication, directing a video clip for Elegia and vjing on the « Electronic with no limits » tour, co-founded °Mat Gorski° group in Paris He realised videos for Addictive TV °Mixmasters° and French Cancan °Urban Session°- series /vj creations with electronic music. Milosh was resident VJ for the °Composite° sessions at Pulp (Paris) , Music Box (the Versatile party) at the Nouveau Casino (Paris). and °Monoculture°- event of Patrick Vidal. He is continuously researching art and new media. In 1999 – together with J. Borqueneze and dj Cisco, he cofounded « Entropie »- a live intermedia band. Between 2001 and 2004 he has been working on his « 4XParis » project . In 2004 he directed « Une orange… » with Vincent Ravalec and Gimkhana. Later project became a live performance. In 2005 he met Zenial and created together « OKOSANU » . In 2006 with Bas Bottcher and Bohdan Piasecki he formed « Berlin -Warsaw EXPRESS » – a multilanguage-slam-A/V performace. In September 2006 he was a part of the project Polish Sound Art in China. In 2007 together with Gimkhana set up « Driften – Rue Des Cascades », participated in I'mPULSE project – cooperation between artist from Asia and Europe, created OSOCANU (okosanu with Daito Manabe), worked on 'Pocket Summer' – personal art project. In 2008 realised -big format video for symphonic orkiestra – MOZART EGIPTIEN, 360° video realization exploring advanced 3D technologies with immersive video projection and sound diffusion and dvd project °Parachora° (1000 ex.limited edition). At the moment he works on his paraglide flight technique – to be used in his 360° immersive video installations.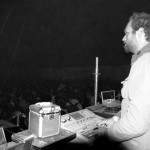 Né en 1973 dans les Carpates, en Pologne, artiste visuel et intermédia, vj, réalisateur vidéo, performeur, designer, peintre… Milosh vit et travaille à Paris depuis 2001.
Après des études d'anthropologie culturelle à l'université Jagiellonian de Cracovie (1992-94); de design industriel à l'Ecole des Beaux Arts de Cracovie (1994-98), puis de communication et multimédias aux Beaux Arts de Toulouse (1998-99), passionné de musique et de performances, Milosh crée un langage original et personnel dans la culture électronique.
Il commence en tant que performeur dans les années 95, puis comme vj dans les premiers évènements électroniques à Cracovie en 1996, il  rejoint le Novalog projet – la voix des jeunes artistes électroniques de Berlin et Cracovie. Vj dans les clubs, il produit également des installations et vidéos.
A Toulouse, il devient un membre actif du collectif média mix « inkorporation », qui acquiert une certaine influence sur la scène électronique dans le sud de la France. Il développe alors son propre style – fusion d'images textes et sons. Son projet « MPV3″ (Music: Poésie: Vidéo) fut bien accueilli avec succès lors de sa présention au Salon Littéraire de Frankfaurt en 1999.
A partir de 2000, il travaille régulièrement avec le label F-communications, réalise un clip pour Elegia et est vj sur différentes manifestions de ce label. Il fonde le « Mat Gorski » groupe à Paris; réalise des vidéos pour Addictive TV « Mixmasters » and French cancan  » Urban session » – séries / vj créations pour musique électronique. Il est aussi Vj résident pour les sessions « Composite » (Mat Gorski) au Pulp (Paris), Music Box (label Versatile) au Nouveau Casino (Paris) et « Monoculture » aux cotés de Patrick Vidal (Paris).  Il est en recherche perpétuelle des arts et nouveaux médias. En 1999, avec J. Borquenez et DJ Cisco, ils fondent « Entropie » un groupe audio/video live. Entre 2002 et 2004 il travaille sur son projet« 4XParis ».  En 2004,  réalise « Une orange roulant sur le sol d'un parking » en coopération avec l'écrivain Vincent Ravalec. Projet qui devint une performance plus tard.
En 2005, il rencontre Zénial et créent ensemble « Okosanu »- une recherche sur les souvenirs, la « petite patrie », les voyages . En 2006, avec Bas Bottcher et Bohdan Piasecki il forme « Berlin- Warsaw express » performance slam multilangues, audio/vidéo. En 2006, coopère avec  le compositeur Krzysztof Knittel sur ca création symphonique « Vagante », commandée par le festival Warsaw Autumn et il prend part au projet Polish Sound Art en Chine. En 2007 avec Gimkhana et Bas Bottcher il crée« Driften – Rue des Cascades »; partcipe au projet I'mpulse – coopération entre artistes asiatiques et européens; crée OSOCANU (okosanu avec Daito Manabe); travaille sur « pocket summer » projet personnel audio-vidéo. En 2008, il crée un grand format vidéo pour le concert de l'orchestre symphonique « Mozart l'Egyptien » de Hughes de Courson; réalise une vidéo projection à 360° utilisant des techniques avancées de 3D et un projet dvd « Parachora »(1000 ex. édition limitée). Il développe une technique de prise de vues en parapente  – pour être utilisée dans ce projet d'installations 360°. Il réalise une installation 360° à grande échelle à DJEDDAH, le projet de mapping MIMOID sur la façade de l'église Saint-Nizier pour le fête des lumières de Lyon 2010 (avec Philippe Rizzotti et stephane Beve). En 2011, il crée l'installation MIEJSCA MILOSZA (Les Lieux de Milosz) dans le cadre de l'année Czeslaw Milosz, en partenariat avec le Ministère de la Culture de Pologne. Actuellement, il travaille au développement  de projets incluant la réalité augmentée et poursuit ses collaboration avec des artistes à travers le monde.


Participated in
Deleuze Studies Conference,  Amsterdam (NL)
Nuit des Musees, La Monnaie de Paris (FR)
WeLoveArt, La Villette Paris (FR)
Фабрики воображения- Aktovy Zal Moscow (RUS)
Surexpositions, Art Museum – Timisoara (RO)
Musraramix- Jerusalem (ISR)
Djaddah architectural exhibition (SA)
Tunes on Screen – Bonn (DE)
Nuit Sonore – Lyon (FR)
Moving Closer- Warszawa (Pl)
'Une orange…' Palais de Tokyo- Paris (FR)
Resfest, National Film Theatre – London (UK)
Impuls Clandestino – Gotenbourg (SWE)
Warszawska Jesien – Warszawa (PL)
RDV Electronique, Paris (FR)
Terra Polska Kulturbrauerei – Berlin (DE)
InProgress, CSW Laznia – Gdansk (PL)
Humanities, Museum of Contemporary Art- Chicago (USA)
Expresion en Corto, Guanajuato – (MEX)
La Villette Emergences- Paris (FR)
Audio Art- Krakow (PL)
Fenetre de jeudi, Le Cube – Paris (FR)
Terra Polska, Kulturbrauerei – Berlin (DE)
Polish Sound Art in China – Beijing, Shanghai, Foshan…(CHDR)
Sweet nothing, Kunsthause Baselland – Basel (CH)
Nuit Blanche, Institut Polonais Paris (FR)
Optronica, Spitz – London (UK)
Videoformes- Clermont-Ferrand (FR)
Live Dance Music Conference- Amsterdam (NL)
Festival Vieilles Charrues (FR)
Media Art Biennale WRO- Wroclaw (PL)
Calvi on The Rocks- Calvi (FR)
Love Parade- Berlin (DE)
Novalog, Krakow/Berlin (DE/PL)
Fort Sztuki – Krakow (PL)
Economic Forum Djeddah- Saudi Arabia


PLACES
Actovy Zal, Moscow
MNAC, Bucarest
Da Brakke Grond, Amsterdam
Mannaie de Paris
Forum Freies Theater, Dusseldorf
Contemporary Art Museum, Chicago
Recyclart, Bruxelles
Hanoi / Saigon  Vietnam
Chapelle de la Trinite, Lyon
Kulturbrauerei, Berlin
B52 Pekin, China
Bound stage Shanghai, China
levontine7, Tel-Aviv,  Izrael
Naggar School , Jeruzalem / Izrael
Esapace Pierre Cardin Paris
Storan Goteborg / Sweden
National Film Theatre,  Londres, UK
Evelyne Canus Gallery, Basel / Switzerland,
Espace Nesle, Paris
La Loco, Paris
Kunsthause Baselland – Basel / Suisse
Manufacture des Tabacs, Toulouse
Umspannwerk  -  Berlin / Germany
Galerie Krzysztofory -  Krakow / Poland
Triptyque, Paris
Galeria QQ -   Krakow / Poland
galeria Kont -  Lublin / Poland
Divan Japonais, Paris
Galeria Bunkier Sztuki,  Krakow / Poland
Galeria Sukiennice- Krakow / Poland
Institut Polonais, Paris
Batofar, Paris
Laznia, Cracovie/Pologne
Nikaia – Nice
Théatre 347, Paris
La Cigale, Paris
Republic, Perpignan
Cinéma Barbizon, Paris
Palais de Tokyo, PARIS
Gare De L°est, Paris
Bonnes Enfants- Ministere de la  Culture, Paris
Wearhouse, ShanghaÏ- China
Man Ray- Paris
Atelier Renault-  Paris
Paradiso- Amsterdam
WMF- Berlin
La Traverse- Paris
La Scene Bastille – Paris
Nouveau Casino- Paris
La Boule Noire- Paris
PULP- Paris
Le Cube- Espace Culture Multimédia, Paris : Issy- Les- Moulineaux
Queen, Paris
Zoomba, Panama City-  Panama
Hormon – Krakow / Poland
Zwiazkowiec – Krakow / Poland
Strefa 22- Krakow/Poland
Docks des Sud, Marseille
Conservatoire National de la Région Midi-Pyrénées de Toulouse
Teatr Buckleina, Krakow /Poland
Olympic- Nantes
Nautilius- Bordeaux
Opera Bastille- Paris
La Boca Del Lobo- Madrid
Postufhamt,  Berlin
Electric Kingdome – Columbiahalle, Berlin
Chateau de Herouville- Paris
Pod Jaszczurami- Krakow / Poland
Atelier Agnes B.- Paris
Xu Saigon- Vietnam
Rex Club – Paris




FESTIVALS
Nuit des Musees, Paris
Optronica London
Moving Closer Warsaw
Surexpositions Timisoara Romania
Polish Sound Art in China
Audio Art Festival Krakow
Humanities Festival Chicago USA
Warszawska Jesien festival – Warsaw
Festival Polish Sound Art in China
Festival Clandestino Geteborg
Musraramix Jeruzalem
Skabazac festival Rodez
Love Parade – Berlin
Festival °Dj's attack, Toulouse
Festival  Vieilles Charrues
°Nouvelle Génération°, Transbordeur- Lyon
festival Les Electros de Uzes,
Festival Videoformes, Clermont-Ferrand
Festival Resfest, London
Media Art Biennale WRO 99, Wroclaw / Pologne
Festival Nova Fabryka, Pologne / France
Live Dance Music Conference, Amsterdam
Festival Fort Sztuki – Cracovie / Pologne
festival La Villette Emergences 2,Nuit Blanche, Paris
Festival  Industrie de Reve, Montreuil
festival Kontperformance – Lublin / Pologne
Festival  'Bergen 2000 Krakow'
Festival AV-Flux, les Voutes, Paris
Festival RDV Electronique, Paris
Festival Calvi on The Rocks, Calvi/ Corse
Festival Novalog- Krakow/Berlin
cooperated with:
R. Pinhas, J. Schmidt, Laurent Ho, dj Gilb°r, I:Cube, Stalker, Marek Choloniewski, Kiniorski, Knittel; Neneh Cherry, Toffe, Volta, Toffee, Peter Kruder, Rob Birch, Lady B., Dj Kantes, Joakim, Pepe Bradock; Laurent Garnier, Jori Hulkkonnen, Hughes de Courson, Youngsters, Frederic Galliano, Carl Craig, 2MANY DJS, Johann Bourquenez, dj Cisco aka Artificiel, Minivan, Chateau Fligt, Pedro Winter, Leonard de Leonard, Ralph Lawson, Patrick Vidal, Dave Clark,Minivan, Jennifer Cardini, Dan Ghenacia, Kojak,    Elegia, Westbam, Hardy Hard, Lexy, dj Chloé, Readymade,
djOOF, Ariel Wizman, Dan Ghanacia, Aqua Bassino, Peaches, Le Lutin, Black Sifichi, Isolee, Markus Nikolai, Darek Makaruk, Wlodek Kiniorski, Tom Parris, Tonio, Rykkks,  Trip do Brasil, John Thomas, Amon Tobin, Hakan Lidbo, UP BUSTLE & OUT
dj Eva, Tasty Tom , Sex Toy, ScanX, , Neil Landstrum, Manu le Malin,Torgull, Bad Company, Kid Koala, DJ Food, Darren Knot, Akro, Feadz, Lego, Ellen Alien, Africa Bambaataa, Westbam, MRx&MRy, Hardy Hard, Lexy & K Paul, dj Icon , Etienne De Crecy, Dj PunkRoc, Vitalic, Dj Food , Stephanovitch, Charles Schilings, LLorca, Alex Kid, Ivan Smagghe, Electric Indigo, Feed, HiQ Koval, dj OP,, I:gor, Ch District, Diakoff  . . . . . . . . . .