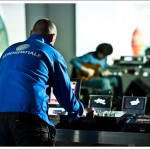 RICHARD PINHAS BAND
Milosh constantly collaborates with

Richard Pinhas

, Since 1st common experience – 4XPARIS …
- composer, guitarist and electronics innovator Richard Pinhas is recognized as one of France's major experimental musicians. A pivotal figure in the international development of electronic rock music, Pinhas' stature in France is analogous to Tangerine Dream's in Germany: the father figure of an entire musical movement. The pioneering, aggressive music produced by his band Heldon during the 1970s, fusing electronics, guitar and rock, heralded the industrial and techno to come and remains today vital and unsurpassed. The 'Father' of electronic music in France is also recognized as a world-class guitarist whose "diabolical guitar work" (Progression) earns comparisons with Robert Fripp.
………………………………………………..
Richard Pinhas - guitar / electronics
Jerome Schmidt – laptop
Antoinne Paganotti – drums
Milosh Luczynski – live video
Richard composed °Crepuscule°- 4XPARIS and a track for °PARACHORA°…
New collaboration  – an AV dvd album – will be released soon!